All About CEBU
05 9月 2014, Posted by セブの生活
in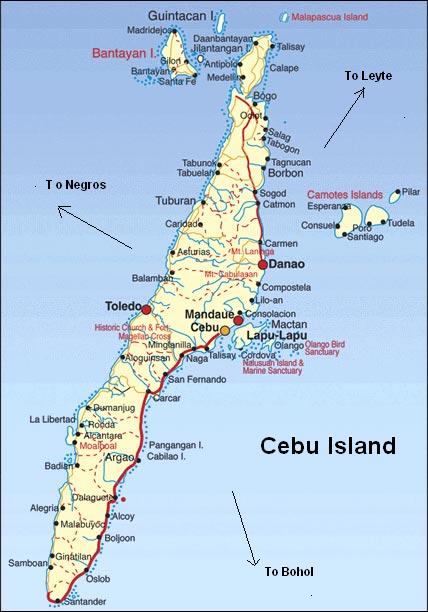 Cebu is known by many tourists for its beautiful beaches and attractive tourist spots. As one of the most
developed provinces in the Philippines, Cebu combines the glamour of city life and the serenity of a
perfect island getaway. However, unknown to a lot of tourists, Cebu plays a big part in the Philippine
history.
HISTORY:
– Before Spanish exploration, Cebu was an island inhabited by Hindus, Buddhists, animists and
Muslims ruled by Rajahs and Datus.
– Ferdinand Magellan, a Portuguese explorer, arrived in 1521 which started Spanish
exploration and colonization.
– On April 27, the Battle of Mactan occurred where the Spaniards were defeated and Magellan
killed by the natives in Mactan Island.
– Magellan`s defeat did not stop Spanish exploration. Spanish explorers led by
Miguel López de Legazpi sailing from Mexico arrived in 1565 and established a colony.
– In 1898, the island was ceded to the United States after the Spanish-American War
and Philippine-American War.
– Cebu served as a Japanese base during their occupation in World War II which began with
the landing of Japanese soldiers in April 1942.
GEOGRAPHY:
Cebu is a long narrow island stretching 225 kilometres (140 mi) from north to south and
45 kilometers across at its widest point, surrounded by 167 neighbouring, smaller islands,
which include Mactan, Bantayan, Malapascua, Olango and the Camotes Islands.
Cebu has narrow coastlines, limestone plateaus and coastal plains. It also has rolling hills
and rugged mountain ranges traversing the northern and southern lengths of the island.
CLIMATE:
The climate of Cebu is tropical. There are 2 seasons in Cebu − the dry and wet season. It is dry
and sunny most of the year with some occasional rains during the months of June to December.
The province of Cebu normally gets typhoons once a year or none.
LANGUAGES:
Cebuano is the official language spoken in Cebu. However, most of its locals are
proficient in Tagalog (Philippines` national language) and English.